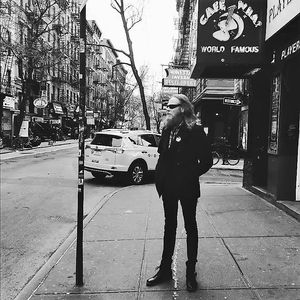 I've known WC Edgar for a long time. He's a fine singer-songwriter & musician 
Daryle Singletary 
He's mastered the sounds and idioms of Country Music in it's rhinestone heyday of traditional Country Music, one that sparkles with fiddles, steel guitars & tales of drinking too much and loving too hard. 
Ed Morris
Former Editor Billboard Nashville 
With a voice reminiscent of Johnny Paycheck and a Waylon Jennings/George Jones vibe, how can you go wrong? 
HonkyTonk Junkie. com 
If you want old school take a listen to WC Edgar. His CD 'Old School Survivor' (2016) reaches deep into roots country as he displays the influence of Hank Williams and such 1970's Outlaws as David Allan Coe. And he backs it all up with a superlative voice reminiscent of George Jones and Johnny Paycheck 
From The Book 'Outlaws Still At Large' 
By Neil Alexander Hamilton 
CD Review WC Edgar 'I Lied' 2016 5 Stars 
If Dale Watson had made this record it might be his best-received ever. 
WC Edgar is still the Old School Survivor 
Duncan Warwick 
Country Music UK Magazine 
WC Edgar is a 'good ole boy' with a Texas-sized talent 
Bill Mack 
XM Radio 
As long as there are artists like this still making records, I'm a happy camper 
Robert K. Oermann 
Nashville's Music Row Magazine 
W.C. Edgar, 
Alcohol of Fame 
(independent, 2009) 
I became a W.C. Edgar fan when I heard his album, Old School Survivor (reviewed on this site on 21 October 2017), so I was pleased when Alcohol of Fame crossed my desk. This earlier album allows Edgar's outlaw credentials to shine and, as does Old School Survivor, shows him to be happily and completely out of the current mainstream. Here is a man who, without regard for current tastes and markets, proudly and excellently plays traditional, old-fashioned country music; in an age of plastic, W.C. Edgar is iron. 
The album kicks off with a spoken introduction by Daryle Singletary, who lets us know we're in for something special on this disc (Singletary also sings harmony on a cut) before jumping into an uptempo rocker, "Burn That Bridge," which features great ensemble playing and a cool honky-tonk flavor. It's the kind of song that George Jones would have placed between ballads on one of his albums to perk up the listeners who drifted into a sad mood from his lost love songs. It also serves to let us know that Edgar is on the job. 
From there we go into a patriotic mood with "When You Don't Buy American." In the notes, Edgar states that his thinking has evolved a lot since this album was made and, indeed, the hyperpatriotic fervor found in this song and in "Red, White & Black" had died down by the time of the release of Old School Survivor. He also, in "...Buy American," advocates the purchase of Budweiser beer, a brand that has been sold to an international conglomerate, a fact he recognizes in his notes. Still, "When You Don't Buy American" is a strong, fiddle-driven ballad. Politically it touches on all of the major focal points of Americanism, including a recording of John F. Kennedy's "ask not" quote. Musically, it is pure country and would not be out of place in David Allan Coe's repertoire. 
In fact, Edgar is a master at bringing new life to old country music tropes. In "Mirrors Don't Lie" he gives us the quintessential lost-love song, loaded with good hooks and heartfelt lyrics, while the title song, "Alcohol of Fame," follows the old country tradition of personifying booze, making Jim Beam and Jack Daniels people, old and best friends of the singer. If George Jones was alive today, he'd be in the studio right now, cutting his own cover of this song. 
That's the type of singer and writer W.C. Edgar is. His eye is firmly fixed on the past when country music had a true identity. He is too committed, fixated, or too talented to have anything to do with current trends -- which he strongly attacks in Old School Survivor. W.C. Edgar is determined to be his own man and his own artist. 
Michael Scott Cain 
Rambles.net 
A Cultural Arts Magazine 
W.C. Edgar, 
Old School Survivor 
(Erection Records, 2017) 
Veteran honky-tonk musician W.C. Edgar has been around a long time, playing pedal steel guitar as a sideman for artists including Alan Jackson, Tim McGraw, Dale Watson, Ty England, Marty Haggard, Jeff Carson, Johnny Lee, Whitey Morgan, Lucky Tubb and Leroy Van Dyke. He also served as a member of the cast at Nashville's Country Music USA Show. 
His roots are deep in the outlaw movement of the 1970s. The immediate comparisons for his voice and music are Johnny Paycheck and David Allen Coe, but you're going to hear a lot of George Jones in there also. In fact, someone called Old School Survivor the best Dale Watson album that Watson never recorded. 
All of those comparisons are a little unfair, however. Edgar is very much his own man and, in fact, uses this album to proclaim his individuality, his authenticity as a country singer in a world of contrived stadium country. Old School Survivor declared his independence from the crowd, his insistence on going his own way by declaring, as several songs do, that if you don't like his music, you can kiss his ass. 
Edgar is nothing of not aggressive in putting his individuality out there. The song "Old School Survivor" is "dedicated to Rascal Flatts, Kenny Chesney, corporate radio & everyone else that's really screwed up Real Country Music as we know it." 
"Modern Day Savior" goes in the same direction. It's about the death of country music and how he, as one of its last practitioners, is going to form a new church of country music and be its savior. The song points out that country died when the Ryman closed down and "that Nashville music's done left town." 
Edgar comes across as a man on a mission, and that mission is nothing less than keeping country music alive in a time of bro-country and stadium country when the music has been usurped by its corporate owners. He occasionally comes across as a little bit self-absorbed in his approach but on the whole, Edgar accomplishes what he sets out to do: to give us an album of hard-core outlaw music that most definitely reflects a single, strong personality instead of a corporate-crafted identity. 
Michael Scott Cain 
Rambles.net 
A Cultural Arts Magazine