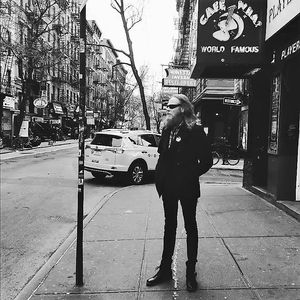 Please join us in beautiful Key West, Florida at the Hogs Breath Saloon on March 20-26 2023, and again on May  1-7 2023 for Key West Songwriter's Week! 
We look forward to seeing friends /fans & making many new ones!
'My Old Friend' is the newest release from singer-songwriter & vagabond troubadour WC Edgar 
It's the story of a magical musical journey in search of a lifelong obsession, complete with the trials and tribulations one would expect as he peers deep within his own soul.
It's hard to know where to start by giving you a snapshot of who this amazing artist truly is. WC literally embodies what it means to be hardcore pure country and outlaw, simultaneously.  A 'world-class' songwriter this man could play in front of a hardcore biker crowd, and drive down the street to climb on stage at an old-school Texas dancehall, and you can bet all your money that he will leave behind two crowds who will be extremely grateful for the experience. 
Quote from a Lifelong Texan & Music Critic
I've known WC Edgar for a long time. He's a fine singer-songwriter & musician 
Daryle Singletary
If you want old school take a listen to WC Edgar. His CD 'Old School Survivor' (2016) reaches deep into roots country as he displays the influence of Hank Williams and such 1970's Outlaws as David Allan Coe. And he backs it all up with a superlative voice reminiscent of George Jones and Johnny Paycheck 
From The Book 'Outlaws Still At Large' 
By Neil Alexander Hamilton
 As long as there are artists like this still making records, I'm a happy camper 
Robert K. Oermann 
Nashville's Music Row Magazine
He's mastered the sounds and idioms of Country Music in it's rhinestone heyday of traditional Country Music, one that sparkles with fiddles, steel guitars & tales of drinking too much and loving too hard. 
Ed Morris 
Former Editor Billboard Nashville