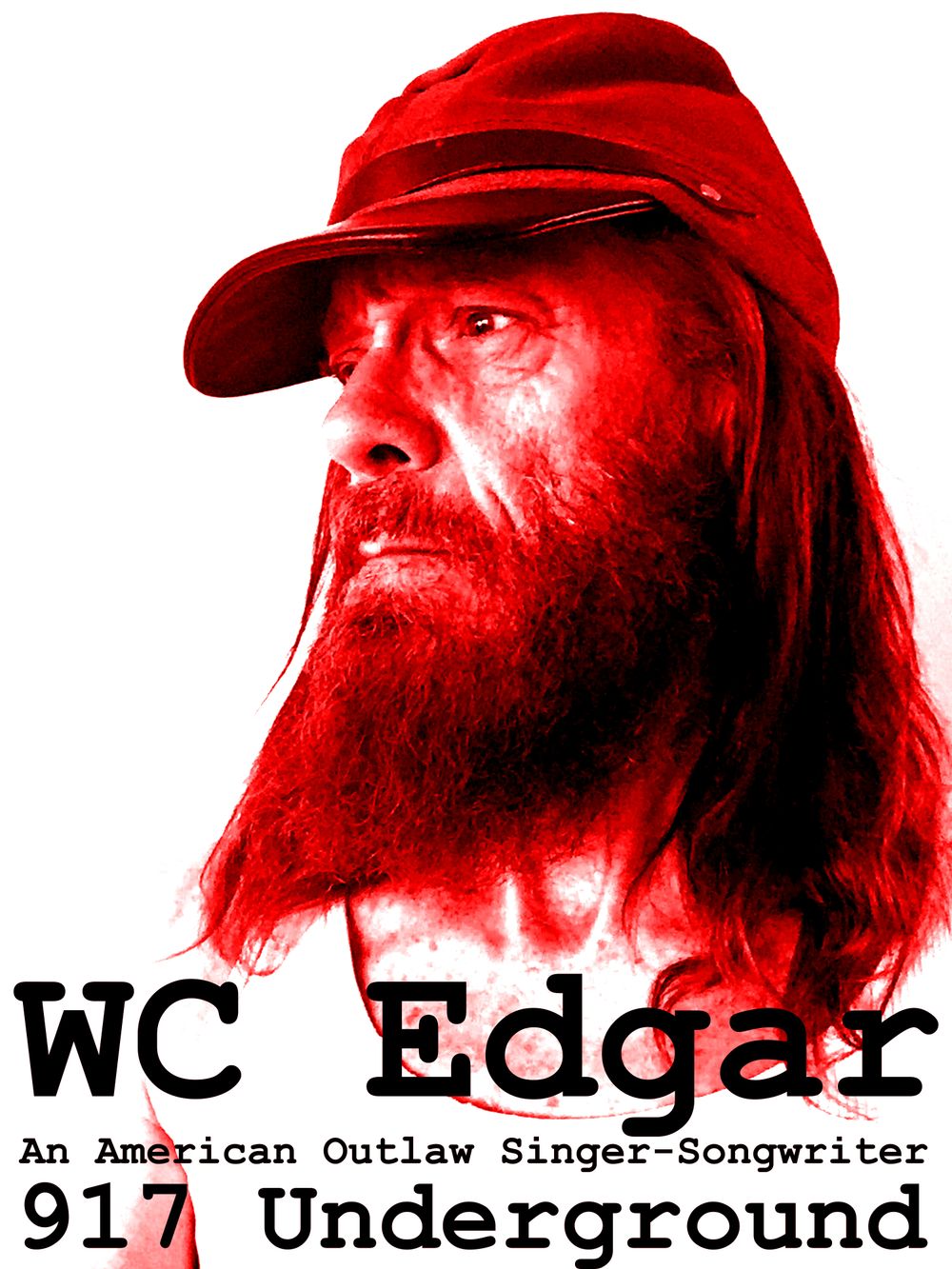 "It's hard to know where to start by giving you a snapshot of who this amazing artist truly is. WC literally embodies what it means to be hardcore pure country and outlaw, simultaneously.  A 'world-class' songwriter this man could play in front of a hardcore biker crowd, and drive down the street to climb on stage at an old-school Texas dancehall, and you can bet all your money that he will leave behind two crowds who will be extremely grateful for the experience."
Source: A longtime Texas music critic & native Texan
New Self Penned Nashville Single Available now!
Please Donate when you can!
Every dollar keeps me on the road from sea to shining sea & recording my awesome self-penned music
Our preferred method of donation is to use VENMO!
VENMO: @WC-Edgar 
Or if you don't do VENMO you can use PalPal
PAYPAL: 917underground@gmail.com 
PLEASE NOTE, when donating more than $10 with PayPal please be
sure to use the Friends & Family Gift Option to keep from paying their surcharge
Thank You!
Yours in truth
American outlaw singer-songwriter
WC Edgar 
Hello Peeps! 
Many of you know that when I'm on the road I need a place to stay for the night and usually end up bedding down in the back of my 98 Chevy Silverado Pickup. 
If anyone has a spare couch, floor space or spare guest room you could put me up for the night it would be greatly appreciated and you'd be doing a big part in keeping an original singer-songwriter on the road until I can afford that ever elusive 90's Class A motorhome to tour in. 
Here are my 2022 US Tour dates so far, please message me on messenger or email me at 1982shobud@gmail.com if you can be so kind as to help me out. 
Yours in truth 
American outlaw singer-songwriter 
WC Edgar 
Here are those tour dates... 
5/6 Shawnee KS 
5/7 Lenexa KS 
5/19 Lawrence KS 
5/21 Perry KS 
5/27 Wakita OK 
6/2 Joliet IL 
6/3 Grand Rapids MI 
6/4 Detroit MI 
6/8 Chelsea MI 
6/9 Springfield IL 
6/10 Springfield IL 
6/11 Chicago IL 
6/13 Chicago IL 
6/17 Flint MI 
6/18 Maumee OH 
6/23 Cincinnati OH 
6/24 Eaton OH 
6/25 Miamisburg OH 
6/27 Youngstown OH 
7/1 Red Bank NJ 
7/2 Marlborough MA 
7/7 Acton ME 
7/8 Manchester NH 
7/9 Agawam MA 
7/10 Queens NY 
7/12 New York NY 
7/15 Atlantic City NJ 
7/17 Tuckerton NJ 
7/26 Seabrook NH 
7/28 Ridgefield CT 
7/29 Westbrook ME 
8/5 Syracuse NY 
8/7 Buffalo NY 
8/9 Fairport NY 
8/10 Rochester NY 
8/11 Burdett NY 
8/12 Rochester NY 
8/13 Peekskill NY 
8/18 Harrison ME 
8/26 Saratoga Springs NY 
8/30 Seabrook NH 
9/3 Phoenixville PA 
9/4 New Hope PA 
9/7 York PA 
9/8 Richmond VA 
9/9 Farmville VA 
9/10 Lynchburg VA 
9/14 Lynchburg VA 
9/15 Richmond VA 
9/16 Goochland VA 
9/17 Richmond VA 
9/18 Morgantown WV 
9/21 Pittsburgh PA 
9/23 Berea OH 
9/24 Athens OH 
9/25 Cincinnati OH 
9/26 Indianapolis IN 
9/30 Saint Louis MO 
10/1 Saint Louis MO 
10/6 Hays KS 
10/12 Beloit KS 
10/14 DeSoto KS 
10/15 Wakita OK 
10/19 Norman OK 
10/21 Oklahoma City OK 
10/28 Tahlequah OK 
10/29 Norman OK 
11/2 Kyle TX 
11/3 Austin TX 
11/4 Georgetown TX 
11/5 San Antonio TX 
11/7 Houston TX 
11/8 Austin TX 
11/10 Waxahachie TX 
11/11 Fort Worth TX 
11/12 Taylor TX 
11/16 Austin TX 
11/17 Lockhart TX 
11/18 Cypress TX 
11/19 Jonestown TX 
12/2 Costa Mesa CA 
12/9 Norco CA 
12/11 Sunset Beach CA 
12/14 Fresno CA 
12/15 San Luis Obispo CA 
12/16 San Carlos CA 
12/17 Sonoma CA 
12/18 San Francisco CA 
12/19 Pacifica CA 
2023 Dates 
3/25 Lima OH
Let's all work together to make America & our planet a better place for EVERYONE of all ethnicities & religions