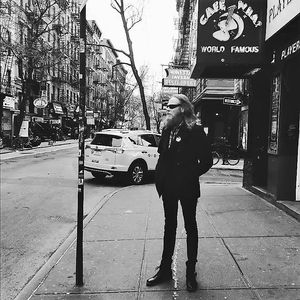 Bio
It's hard to know where to start by giving you a snapshot of who this amazing artist truly is. WC literally embodies what it means to be hardcore pure country and outlaw, simultaneously. A 'world-class' songwriter this man could play in front of a hardcore biker crowd, and drive down the street to climb on stage at an old-school Texas dancehall, and you can bet all your money that he will leave behind two crowds who will be extremely grateful for the experience.
From the inception of 'Alcohol Of Fame'  (2009) to 'Old School Survivor'  (2011), 'Non-Conformist Deluxe' (2016), 'I Lied' (2018) & singles like the Cash Sounding  'My Old Friend' (2022) and his current single 'I Need A PBR ASAP!'  in 2023 WC Edgar has continually grown with the times as much as his recording budget would allow.
Following in the footsteps of his songwriting heroes Steve Earle,  Townes Van Zandt & Merle Haggard  WC feels he has something to prove and he's off to a great start.
So sit back, take a drink, and let his songs & pointed boots take you away to another dimension where you can at least for a moment forget about all the bullshit going on in our world today...
This is WC Edgar