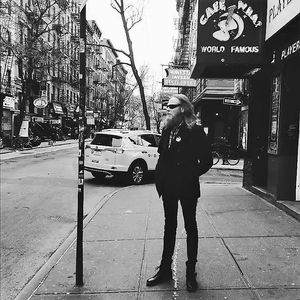 Bio
It's hard to know where to start by giving you a snapshot of who this amazing artist truly is. WC literally embodies what it means to be hardcore pure country and outlaw, simultaneously.  A 'world-class' songwriter this man could play in front of a hardcore biker crowd, and drive down the street to climb on stage at an old-school Texas dancehall, and you can bet all your money that he will leave behind two crowds who will be extremely grateful for the experience.
From the days of riding around in smoke-filled overcrowded rickety vans to million-dollar tour buses, you could say he's done it all. 
Moving to Nashville Tennessee with dreams of becoming an artist WC Edgar went to work playing pedal steel guitar for the likes of Alan Jackson, Tim McGraw, Opryland USA on the Country Music USA Show at Nashville's once famed music park, Ty England, BB Watson, Marty Haggard, Dale Watson, Leroy Van Dyke, Lucky Tubb, Johnny Lee, Jeff Carson, Whitey Morgan and many many more. 
It's often been said that every now and then a really special artist that has what it takes to 'shake things up' in the music industry seems to fall through the cracks in the everyday corporate BS, and backstabbing that goes on in Nashville and WC Edgar is one of those artists.  In 2003 WC started writing again and the rest is history.  After 9 trips to France, a 2-week tour of Australia, a whirlwind 10 shows in 10 cities in 10 days in Spain to Canada, Sweden, and most all of the lower 48 US States WC Edgar is living the 'honky-tonk dream'. 
Now he's in high gear to finish writing his fifth self-penned album that's scheduled for a single release on 11/4/2022 followed by another in January 2023
With his trusty Martin HD-28 guitar, new management, label, distribution & new music under his belt in 2022 & influences the likes of songwriters Merle Haggard,  Steve Earle,  Bob Dylan &  Guy Clark we'd say he's well on his way to being the world-class singer-songwriter he was always destined to be. 
WC Edgar plays Martin guitars, drives Chevy pickups & drinks PBR Beer